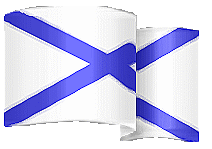 Battleship Imperator Petr Veliki, laid down 1918. Standard displacement 37,500 tons. Speed 25 knots. Range 5,000 nautical miles @ 15 knots, Armament - 12x 381mm/52 guns, 24x 130mm/55 guns, 8x 100mm/50 guns, and 24x37mm/55 guns.
Battleship Richelieu, laid down 1931. Standard displacement 35,000 tons. Speed 29 knots. Range 12,000 nautical miles @ 18 knots. Armament - 8x 381mm/50, 6x 152mm/50, 12x 120mm/50, 32x 40mm/60.

Welcome to my fantasy fleet website.
Here are the ships, ports, and facilities of the fantasy fleets of the Russian Federation and the Republic of France
Here are the Russian and French fleets for a fantasy naval simulation set in 1921, the Wesworld.
The ships are designed using Rick Robinson's Springstyle warship simulation, and the guns using his "Big gun" simulation, both found here:
Its URL is:
This site is organized with a page each for initial French and Russian fleet support facilities, and a page for each ship design.
| | | |
| --- | --- | --- |
| | | |